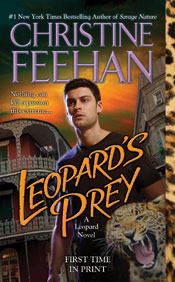 Reading Assignment Challenge: Leopard's Prey by Christine Feehan
From a tough stint in the armed forces to stalking the unknown as a bayou cop, leopard shifter Remy Boudreaux has been served well by his uncanny gifts. And right now, New Orleans could use a homicide detective like Remy.
A serial killer is on the loose, snatching victims from the French Quarter with pitiless rage and unnatural efficiency. But something else is drawing Remy into the twilight--a beautiful jazz singer bathed night after night in a flood of blood red neon.
Sultry, mysterious, and as seductive as her songs, she's luring Remy deeper into the shadows than he ever imagined. And as their passions swell, his keen instinct for survival will be challenged like never before. By a killer--and by a woman.
Bijou is the daughter of one of the most famous rock singers of all time. He could have been a contender for World's Worst Father up to the point of his death four years prior. Bijou has spent much of that time following dreams that weren't hers and she is ready to put her foot down and live the life she wants to live--regardless of her manager's anger, her fan's possible desertion by her switch to jazz and blues, and despite many threats from her father's fans who take obsession to new levels. Add in a tabloid photographer with a personal vendetta against Bijou and a prison thug who is always with her manager and it makes sense that Bijou isn't sure who, if anyone, she can trust.
Remy is dismayed to find a serial killer from four years earlier killing in his city again. When the first victim is someone he has known all his life it becomes personal. The killer is both audacious and torturous in his murders leaving few, if any clues, behind at his macabre death scenes. Remy is determined to stop the killer regardless of what it takes. The problem is an abundance of suspects and a lack of solid evidence.
When Remy finds that Bijou has returned to the bayou, he is quick to lay his claim on the beautiful singer. One of Remy's biggest regrets was not rescuing Bijou from her horrendous childhood with her father and he has carried that regret heavily on his shoulders for sixteen years. Now that he sees the amazing, courageous woman she has grown up to become, he is more determined than ever not to repeat past mistakes and quickly works his way into her life to protect her from the many different people who would harm her.
The plot in this book is jam packed keeping the pacing fast and wild. I loved almost everything about it, even (or perhaps especially) the over-the-top action that takes place at different points throughout the book. One thing that I didn't love was how crazy dominant Remy is with Bijou when her leopard is first emerging. I felt he crossed a line and never quite adequately groveled enough. However, by the end of everything I was still quite satisfied with the HEA. I also am not completely in love with who the serial killer turned out to be...I almost feel that Feehan was trying too hard for the reveal to be a complete surprise for it to be completely believable, but I wasn't so dissatisfied that it affected my overall enjoyment of the book. While it isn't my favorite title by this author, I certainly zoomed through it at breakneck speed and was quite happily immersed in her leopard world for the duration.