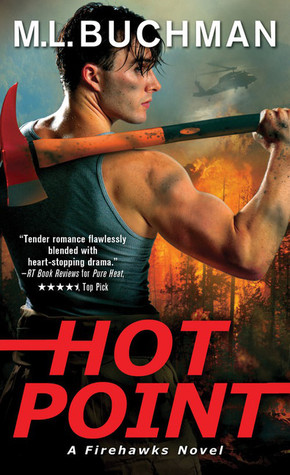 Hot Point by ML Buchman
THESE AIRBORNE HEROES BATTLE MORE THAN FLAMES
The elite firefighters of Mount Hood Aviation fly into places even the CIA can't penetrate.
FROM WILDFIRE TO GUNFIRE
Master mechanic Denise Conroy--with a reputation for being as steel-clad as the aircraft she keeps aloft--shuns useless flyboys who don't know one end of a wrench from the other.
Firehawk pilot Vern Taylor--known for unstoppable charm and a complete lack of mechanical skills--proves his talent for out-of-the-box thinking with every flight. He's a survivor and a natural-born heli-aviation firefighter.
When Denise and Vern crash together in the Central American jungle with wildfire on one side and a full-fledged military coup on the other, their newly forged partnership is tested to the max. They have each other, but not even their formidable skills combined can protect Denise and Vern from the conflagration sweeping the jungle...and their hearts.
First thing--the above blurb is really misleading and in some cases wrong. First: Denise doesn't shun flyboys but she is newly out of a relationship where she was emotionally manipulated at best and abused at the worst making her hesitant about starting a new relationship with anyone not just a pilot. Due to her ex, she is convinced that she is not feminine or womanly enough and that she is better off alone. Second: Vern is not known for a lack of mechanical skills and at one point actually works with Denise to keep the birds flight ready. Third: there is never a crash into the jungle...and by the time they get to the military coup Vern and Denise are extremely committed to each other.
If you are looking for a great romantic adventure with really likable characters, this is the book for you (it stands alone well in the series but I am glad I had read the other two only because it gave me great insight into the secondary characters and added another layer of richness). Denise has always felt different, she is a master mechanic who lost her mother to violence as a child and whose father never really recovered. Add in relationships that never really went anywhere until the latest which went to hell and she is fine keeping to herself and not joining in with the other members of MHA.
When Vern brings in his new firehawk trailing black smoke on his second day flying it, he is sure that Denise is going to skin him alive. She is very protective of her helicopters and he doesn't want to piss her off by breaking one. For the past eighteen months that Vern has worked for MHA, Denise has been intimidating despite her slight stature and Vern is sure he is about to get it...what he gets instead is a brief glimpse behind the shields that Denise has gotten used to hiding behind. And Vern wants to see more...As new facets of Denise's personality are revealed, Vern finds himself more and more intrigued and pretty soon both Denise and Vern are totally committed to finding out how much more they can be together.
Denise and Vern really compliment each other while also continuing to surprise each other. I loved watching their relationship develop--Denise is more complicated but while Vern is extremely easy-going in most ways, he would continually surprise me (and Denise) with his emotional depth. Add in great secondary characters from the first two books (as well as from the NightStalkers series) and you have one great book. Like the first two books, the actual amount of page space dedicated to the more covert CIA-type work was rather slim and happened at the tail end of the book, but it doesn't matter because once again, the storyline revolving around fighting fires was fascinating and has yet to feel repetitive or old, but instead is as fresh and fun as it was the first time I read about the MHA. Another recommended read by ML Buchman.