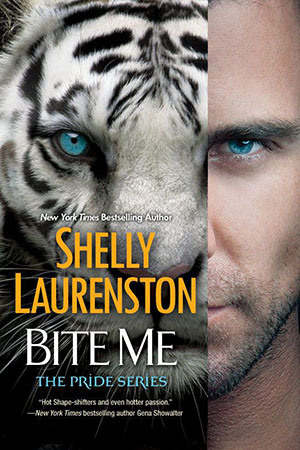 Bite Me by Shelly Laurenston
Livy Kowalski has no time for idiots. When you shapeshift into a honey badger, getting through life's irritants is a finely honed skill. Until she gets stuck housing her nutso cousin an dealing with her Dad's untimely and unexpected demise.
That's where Vic Barinov comes in--or his house does. Vic can't step outside without coming back to find Livy devouring his honey stash and getting the TV remote sticky. It gets his animal instincts all riled up. But he'll have to woo her at high speed: all hell is breaking loose, and Livy is leading the charge...
I have to admit, the beginning of this book led me to believe that I might not like this entry in the Pride series, but after giving it a bit, it became one of my favorites in the series to date. Livy's dad has died, she has lost her artistic muse and is only using her camera to take pictures of the shifter sports teams, and her apartment has been taken over by her sociopathic cousin Melly.
Vic made this book for me. He is completely wonderful. I loved his reactions to finding Livy curled up naked in his kitchen cabinets eating his honey. I loved his relationship with his partner (or non-partner) Shen, with his sister, with his parents. At one point, Vic takes Livy out to relax and they end up at a bear-run town holding a festival during which Livy jousts. She beats all the felines (much to the bears' delight) but loses to the first bear she goes up against. Good thing honey badgers are REALLY tough to kill. How can you not love that? Plus, he has a prehensile tail...which has a mind of its own. So much fun.
Unfortunately, Livy has a lot of trouble coming her way with Russian shifter mobsters, a really bad guy who catches shifters and then lets humans hunt them for fun, and her mother's impending visit. There is a LOT going on in this book and if you haven't read the previous books in the series, there will be a lot that could be confusing. However, if you have read the previous entries, this book is so worth reading!! Livy is great but Vic is hands-down amazing, although after meeting Vic's father, it is very easy to see why Vic is as wonderful as he is.
Lots of previous characters make appearances in this one and it is like one big happy family reunion. I very much enjoy how the characters stay true to themselves while still growing throughout each book and the series overall. I can't wait to see glimpses of Livy and Vic in future installments of the Pride series.
Reading Challenges
Literary Pickers
I Love Library Books
What An Animal
Prequels and Sequels
I borrowed this book from my local public library.