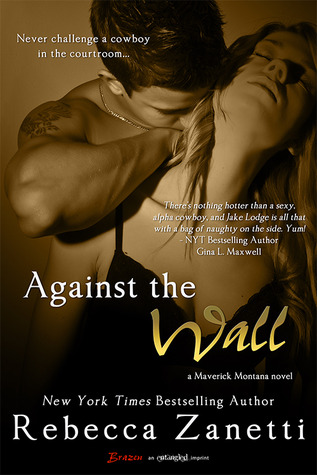 Against the Wall by Rebecca Zanetti
Surveying the proposed site for a high-end golf course should have been a breeze for spunky landscape architect Sophie Smith. But when this born-and-bred city girl is literally swept off her feet by a sexy cowboy on horseback, she realizes country life has some serious (and seriously steamy) possibilities. That is, until she finds out exactly who her smoking hot wrangler really is.
Tribal lawyer Jake Lodge is desperately trying to block the development. And if that means playing hardball, so be it. But Sophie is a distraction he didn't expect. A distraction that makes his blood burn. Two different worlds. Two opposing sides. And when they finally give into temptation, the consequences will shake the foundations of both of their lives.
Thank goodness for reading challenges! If I wasn't looking for an author whose last name began with the letter Z for my Authors A to Z challenge I might never have stumbled across Against the Wall and that would have been most unfortunate as I LOVED this story! I can't wait to try something else by this author, preferably the next book in this series. From page 1 I was hooked--this has to be one of the best opening scenes in a book that I have read in a long time. How good was it? Well, I was stuck at my local car dealership listening to too loud music with the Today show blaring and after the first paragraph all of that faded away. Need more convincing? The courtesy van driver came by and offered to take me to far nicer surroundings and I turned him down because I couldn't stand to bring myself out of the story long enough to go somewhere else. Two and a half hours later I sit perched at a table surrounded by new cars tipity-typing up this review--STILL at the dealership. Yup. Could not put down this story that should come with an addiction warning sticker on it: Caution!! Make sure you have no pressing engagements and that the family is fed--once you open this book you will be completely unavailable until the last word has been read!
It's been a while since I've been this excited about a new author (maybe since Henrietta Clark?) and it reminded me all over again about why I love this thing called reading so much. To be able to meet characters like these and visit the Montana community that houses them was a treat. Now, let's see if I can stop my gushing long enough to actually give you a coherent idea of what this story is about:
Sophie has been assigned to travel to a rural Montana town as part of her job as a designer of golf courses. A development group has bought the land and wants to put in a golf course but the local community is less enthusiastic for a variety of reasons--some are about a lake that might be negatively impacted, others are open to a golf course but in a different location which is a problem for the development company as they only own this land in this area. Jake is a tribal lawyer (a VERY good one) who is working to stop the golf course. When he literally sweeps Sophie off of her feet before they are even introduced I knew I was in for a fun ride (pun intended for those of you who have read the book!)
Jake is strong, tall, dark, and stubborn. He is the father of a very-well written six year old, has two swoon-y brothers, and long-suffering younger sister, and is the son of a loving mother and step-father. Sophie is the only child of a deceased mother who came from very humble beginnings before her mother married a wealthy man and basically dumped Sophie in a boarding school. Sophie is used to being alone with few people to count on which explains a lot about why she is both thankful for and baffled by everyone's quick acceptance of her as well as their continued efforts to pull her into family and community affairs. Sophie and Jake's red hot attraction only adds spice to the zippy fast pace of the story. At no point does the story feel rushed but there is a definite pace to the story that was just perfect. An amazing blend of couple-time (both sweet and spicy!), family-time, and Sophie-ruminating-on-what-to-do time (part of which are Bob dreams that were a hoot!) along with just enough tension from a mystery figure leaving pointed notes on Sophie's car warning her off the golf course, a past love-interest of Sophie's who suddenly wants to make a go of it, and an offer to let Sophie do what she loves without having to run back to San Francisco and you have one rock solid offering from Rebecca Zanetti.
The reader gets such a clear picture of what the various people in this small community are like, both good and bad, with the good clearly outweighing the crazies. This only makes Sophie's internal struggle concerning knowing in her head that she will be leaving for her home in California and her heart's wish that she could belong to a place like this one more poignant without ever becoming a conflict for conflict's sake. Everything in this story felt so real and genuine; nothing felt contrived. Even when the author used story lines that can easily feel cliched there was a fresh feeling that came from how they were used and the fact that I was so invested in these characters that my heart was beating and my gut clenching watching them achieve the HEA.
Just in case there is any doubt left: Get this book and read it ASAP. I am only sad that I haven't discovered this author until now and insanely happy that she has quite a backlist of books so that I can have a happy glom now.
Reading Challenges
Authors A to Z
Contemporary Romance
I Love Library Books
New to You
I borrowed this book from my local public library.