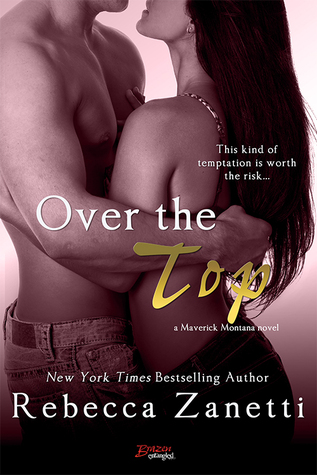 Over the Top by Rebecca Zanetti
Dawn Freeze had a huge crush on Hawk Rain for years, and the entire town knows it. It's understandable--the man is total hotness. That tall, lean body. Intense dark eyes. And always one foot out the door. Now he's on leave for exactly one week. And this time, he's made it crystal clear that he only wants one thing. Her.
Hawk's been fighting his attraction to Dawn for as long as he can remember. She's his best friend's little sister, and that means hands-off. Except now she's all grown up, and her sweet sexiness is exactly what he craves. But just as Hawk allows himself one mindblowingly intense night with Dawn, he learns that everyone he loves is in danger. Especially her.
And the only way to protect Dawn is to push her away...
Holy hotness, Batman! This may be my favorite book in the series yet and that is HIGH praise indeed as ALL the entries have been phenomenal. This book made me laugh out loud several times, once to the point that I was snorting out loud (so glad I was reading in the privacy of my home!!) It also made me come close to tears with both frustration and empathy with the characters and the way that Hawk's past kept getting in the way of his present and possible future.
Hawk is HOT!! He is alpha to the core and yet even when he was being overbearing, I totally understood it. Hawk knows that Dawn is it for him but he also knows that most likely he won't ever actually get to have her--that his choices and responsibilities will keep him from ever possessing the one thing that has kept him alive all these years. And then Hawk decides to live in the moment. If he can't have Dawn forever, maybe he can at least have her for right now. He doesn't really expect to make it through his last mission alive and never knowing what it is like to truly be with Dawn is too much for him.
Dawn is amazing! Smart and tough she knows when to bend and when to stand her ground. She is perfect for Hawk. His constant pushing her away has hurt her but she is determined to remain friends as she can't imagine her life without him in it in some way. Dawn loves Hawk more than anything or anyone but she isn't about to let that fact allow him to walk all over her or push her into a corner. So many times he wanted to wrap her in cotton wool and put her on a shelf and Dawn wasn't having any of it...and yet she never, not once, ventures anywhere near TSTL territory. She knows what she is capable of and she is determined to do her part to protect herself and Hawk if needed.
This book also included two of the best matchmakers since Nana from the Firsts and Forevers series (oh, to introduce Nana to Mrs. Poppins and Mrs. Hudson!). Mrs. Poppins and Mrs. Hudson are determined that Dawn follow five rules to get her man and they shake their heads in despair as Dawn breaks rule after rule (not always on purpose!). There was a very sweet secondary romance involving one of these two matchmakers as well. There were just enough hints regarding other characters to give me hope that we haven't seen the last of this series!! PLEASE let there be more books in this series!! I need to know what happens to Reese. And Adam. And Anne. **Fingers crossed**
Reading Challenges
I purchased this book with my own funds.