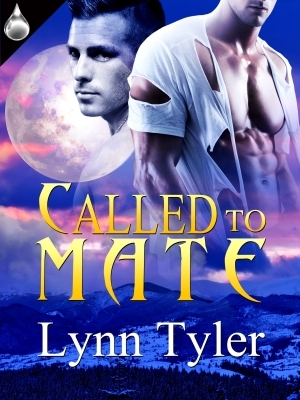 Called To Mate by Lynn Tyler
Declan's chance to be the alpha of his pack has finally come, but in order to take over he needs to find a mate. Find the gorgeous and fragile Quinn living in his parents' home, his body heats for no other.
Quinn is a submissive male wolf who has spent most of his life abused by his former alpha. But being mated to his new pack's alpha provides him with a level of safety he's never known before, and a whole new world of passion and lust.
Just as their love begins to blossom, a wolf from Quinn's past threatens the happiness he's found in Declan's arms.
I love this first book to the Called to Mate series. From the very beginning when we find that Declan has lived away from home rather than fight his father for leadership of his pack, I knew this book was different from so many of the shifter series that I have read before. Now that Declan's father is joining the Council of Elders, he is free to come home to become his pack's Alpha. Declan has a clear vision for his pack, he wants them to be more like a family than anything else; he knows that the more supportive and close each wolf is with each other the stronger and more responsive the pack can become. One fly in the ointment--before he can become alpha, Declan must find a mate.
On his first night back, Declan spies a beautiful, too-thin man sleeping on the living room floor, who wakes up in fear pulling at Declan's heartstrings and protective instincts. This young man is Quinn who has been rescued from his extremely abusive pack. Quinn struggles with his new freedom after living in fear for so long but there is something about Declan that makes him feel a level of safety he hasn't before. Declan makes Quinn want to get better; he begins to eat more, make more eye contact, and is learning to take people at face value without always searching for ulterior motives.
Declan and Quinn are an amazing couple who have to deal with a lot but the book is well paced with well written secondary characters, including Declan's betas who are in a committed relationship already which alleviates the "sequel-bait" feeling that so often inhabits this type of story. While the book does not encompass a lot of pages, it never feels rushed and the relationship, while quick to develop has a natural feeling progression that I enjoyed reading the second time as much as I did the first. I did find the suspenseful aspect of this story to be not as strong as it could be but overall I really recommend this first book in the Called to Mate series.
Micah's Refuge by Lynn Tyler
One man in need of sanctuary, another in need of emotional security...together they will find the refuge they have both been seeking. Lynn Tyler steams up the pages with passion and desire in the newest addition to her Pack Mates series, Micah's Refuge.
Faced with the choice of hunting down and killing his human lover or being banished from his pack, werewolf Micah is forced to leave everything and everyone he loves. He finds a new pack in Northern Ontario that is willing to give him refuge. Determined to start over, Micah hopes to find a mate he can settle down with in Smooth Rock Falls.
Forensic chemist, Shea, rarely gets any down time, and that's fine with him. As much as he loves his pack, he's a bit of a loner with no wish for a mate. After all, his slight obsessive compulsive tendencies and a fear of having anyone count on him do not make him mate material. But when a new wolf joins the pack, Shea experiences emotions he's never dealt with before, turning his whole tidy world upside down.
Micah is well aware Shea isn't looking for a mate and doesn't know if he should pursue the genius or if he should look for a mate elsewhere. But when tragedy strikes and passion ignites, can Shea just let Micah walk away?
This book is the reason that I reread. The first time I read this book I was not the biggest fan of it. It came too close to one to triggering one of my book no-no's: cheating by one of the main protagonists. I am not a fan of love triangles and anything that smacks of cheating turns me off of a book really fast. But this time when I read the story, I realized that I had misjudged this title the first time I read it.
Shea is an overworked, busy wolf who has to be reminded to shift so that his wolf doesn't get too close to coming out in public. Micah is a man who wants more than anything to find his mate and begin his life with the one man made just for him. When these two meet, fireworks go off; how each man interprets them is where the conflict comes in. Shea is happy to have a friends with benefits affair while Micah wants more. Micah is a patient man and is willing to give Shea time to become comfortable with a relationship but when Shea makes it clear time after time that he wants a physical relationship only, Micah decides to cut his losses before his heart gets broken.
Shea honestly cares for Micah but is less emotionally literate. He doesn't even realize how important Micah has become to him until it is almost too late. Just as he is ready to try to take the steps to make it clear to Micah that he wants to move to the next level, he finds Micah out on a date with another man. Shea is confused and hurt and isn't really sure how to get what he wants without hurting either himself or Micah further. Micah is hopeful that maybe Shea is ready for more, but he also feels terrible because the wolf he is dating, Gray, is a genuinely nice man. Micah's head says Gray is the right choice, but his heart and gut won't let him give up on Shea. These two have a tough time getting to their HEA but get there they do. I also appreciate how honest and upfront Micah is with Gray: he makes it clear that he knows Gray is an amazing guy but he can't just give up on Shea. He doesn't lead Gray on in case things don't work out with Shea. This time around, this story really worked for me.
Reading Challenge
Hard Core Reread
I purchased both books with my own funds.