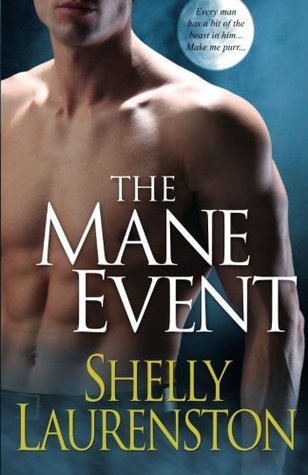 The Mane Event by Shelly Laurenston
NYPD cop Desiree "Dez" MacDermot knows she's changed a lot since she palled around with her childhood buddy, Mace. But it's fair to say that Mace has changed even more. But it's fair to say that Mace has changed even more. It isn't just those too-sexy gold eyes, or the six-four, built-like-a-Navy Seal body. It's something in the way he sniffs her neck and purrs, making her entire body tingle…Meanwhile, for Tennessean Ronnie Lee Reed, New York City is the place where any girl—even one who runs with a pack—can redefine herself. First order of business: find a mate, settle down, and stop using men for sex. Even big, gorgeous lion shifter men like Brendon Shaw. But she needn't worry, because now Brendon's set his sights on her, the predator in him is ready to pounce and never let go…
The Mane Event is comprised of two stories, Christmas Pride and Shaw's Tail. I LOVED Christmas Pride, Dez and Mace's story. These two characters were both amazing and their story could have kept going and going and I would have happily kept reading. I laughed out loud more than once while reading and was so sad when their story finished. Dez is a cop involved in the investigation of a murder when her childhood friend Mace walks back into her life. Dez and Mace were best friends until the age of 14 when Dez changed schools. Mace has recently left the SEALs and has a plan. Find Dez, marry her, have kids, live happily ever after. When he actually sees her again and finds she is beautiful, tough and single, he takes it as a full-steam-ahead sign for his plan. Dez is astonished that this tall Adonis is her childhood friend Mace who used to be small and scrawny but who she felt always saw her for who she really was.
Dez is tough and takes shit from no one. She more than holds her own with the many males in her life (her partner, her ex-marine buddies from when she was an MP, and now Mace) and I love her two dogs, Sig and Sauer. Mace is large and take charge and really personifies the characteristics of a cat which fits his lion-shifter persona. I think one of the biggest strengths of this story (and the series as a whole) are the wonderful traits that the shifters have that fit their animal counterparts. As Mace, in true cat form, inserts himself into Dez's life as if he has every right to be there hilarity ensues. Between the investigation into the murders and Mace , Dez has her hands full and while she has a take-no-prisoners attitude, it is made clear Dez is human and this puts her in precarious situations with shifters. She isn't miraculously able to take on all shifters with no repercussions; her humanity does have its limitations, but Dez being Dez finds ways to work those to her advantage as well, while also being smart enough to know when to ask for help.
Mace. Oh, how I love Mace! He is smug and sure of himself and delights in tormenting Dez's dogs. He also has a great relationship with his friend Smitty and Smitty's family who are a pack of wolves. While cats and dogs aren't normally friends, he and Smitty have had each other's backs for a long time now and their differences only serve as fodder for pranks and jokes. Smitty delights in tormenting Mace by flirting with Dez and Mace has no problem slamming Smitty's face into the nearest hard surface in retaliation. The relationships between Dez and Mace, Mace and Smitty, Dez and her family, Mace and his, all of these and so many more were so fully developed and well thought out that even those that were of an adversarial nature made total sense. Even as I write this, I find myself thinking of different scenes and grinning in delight. I can't wait to reread this one!
Shaw's Tail
I liked this one. I liked it a lot, but it just wasn't over-the-top wonderful the way that Christmas Pride was. I loved Shaw (almost as much as Mace) and really enjoyed Ronnie Lee (but not as much as Dez) and while I enjoyed watching them come together, it didn't make me laugh out loud. Ronnie Lee wants to settle down as she is used to living large, being banned from the country she is currently occupying and having a good time with any good looking guy she wants. She is ready to settle down now that she is 30 and she finds this easier said than done.
For his part, Shaw is tired of being a Pack breeder and is ready to find the one for him. He decides that one will be Ronnie Lee and begins his seduction, a large part of which involves talking fast to keep Ronnie Lee around. Shaw has some family issues going on as does Ronnie Lee and once again the various relationships between characters are a strength for this story. While I enjoyed the time I spent reading this one, I didn't have the overwhelming desire to begin it over from the beginning like I did with Christmas Pride.
Reading Challenges
Genre Decades Reading Challenge
2015 New Year Bookish Bingo
2015 TBR Pile Reading Challenge
I bought this book with my own funds