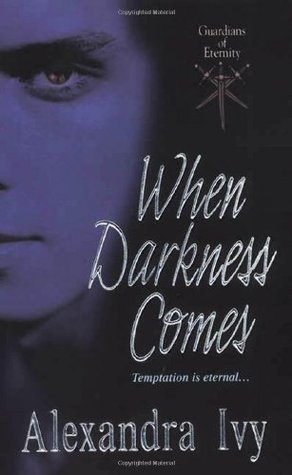 When Darkness Comes by Alexandra Ivy
It's been a hell of a day for Abby Barlow. In just a few hours, she's survived an explosion, watched her employer die, had a startling dream, and now she finds herself in a seedy Chicago hotel with the sexy, unearthly Dante, a vampire she both desires and fears.
For 341 years, Dante has stood as guardian to The Chalice, a mortal woman chosen to hold back the darkness. A terrible twist of fate has now made Abby that woman. Three hours ago. Dante would have used all his charms to seduce her. Now she is his to protect. And he will do so until his very death.
A terrifying plan has been set in motion, one that will plunge Dante and Abby into an epic battle between good and evil – and a desperate race to save their love…
I knew from the first page that I would enjoy this book…we open right in the midst of a panicked Abby trying to figure out what to do while pieces of a shattered Ming vase are scattered on the floor around her feet. And who should find her before she can cover up the evidence and try to salvage the job that she so desperately needs? Dante, better known as the current bane of Abby's existence. Unfortunately as Abby notes, he doesn't look like the bane of someone's existence. Just as she is convinced things can't get worse, an explosion rocks the mansion where she works and as you can read in the blurb above, all kinds of dominoes fall into a neat little line that ends up with Abby's life changed forever as she knows it. And who is the only one who can help her navigate her new existence and is figuratively tied to her for all eternity? That's right. The bane. Who calls her Lover. Which she hates *sure she does*…
Abby and Dante are soon on the run as Abby is the new chalice, a holder of power without any clue as to how to camouflage this power turning her into a metaphorical beacon for all the nasties out there. Dante, who would have been freed if Abby had not become this new chalice, can't help but both mourn for his freedom that was oh, so, close and understand that Abby didn't in any way mean to screw him over. So he sucks it up without much whining and gets on with finding a solution to the problem. And that is another huge point in this book's favor. Both Abby and Dante have their lives take a seriously sharp right turn and with minimal fussing they get on with it and deal. I am not saying it is easy, but I never felt Abby went near TSTL-ville nor did Dante become the big broody "I know what's best so I feel no need to communicate with you puny human" macho guy. He tried to triage the info that Abby would need in a manner that kept her alive and help her understand her new life without overwhelming her more than she already was and Abby realized that she was in way over her head and (mostly) listened to what Dante had to say and followed his advice.
In the midst of this, we met very intriguing secondary characters (sequel-bait!), a coven of witches that were partially slaughtered but who still gave you the willies while they were off-screen, a host of beasties that Abby never realized existed (and would have quite happily gone on that way given the choice), and more all written in such a way that they never felt like wallpaper holding scenes together. Alexandra Ivy's writing is clean and fast-paced but she still gives a very satisfying amount of gravity and tension while all the characters, even those who weren't around for very long a depth that made them feel purposeful. I am looking forward to reading more in this series for sure and am excited to have found such a wonderful new-to-me author right out of the gate in 2015.
Reading Challenges
The Series that Never Ends
New to You (new author and new series)
I purchased this book with my own funds (at an author signing so it is autographed--hot dog!!)