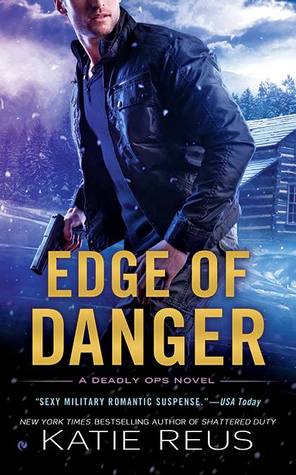 Edge of Danger by Katie Reus
When an assassin tries to kill undercover DEA agent Tucker Pankov the same week his boss is taken out, Tucker has good reason to be paranoid. And when other members of his elite team are targeted and stripped of their top secret security clearance, Tucker has one shot at discovering who wants them dead--and why. So he kidnaps the only woman he things can save them.
Brilliant NSA analyst Karen Stafford doesn't like being forced into anything, especially by someone she doesn't trust. Yet after a hijacked US-owned drone starts attacking government installations, resulting in mass casualties, Karen has to take Tucker's side. Now two unlikely allies must unite to prevent an escalating and unthinkable terrorist plot. But as Tucker and Karen grow intimate, they realize the conspiracy runs deep, and their enemies are closer than anyone realized.
Another new to me author that I really enjoyed! What a great start to 2016 I am having--I can only hope that the rest of the year is this lucky reading-wise...
Tucker is caught completely off guard when he learns that his boss, the director of the DEA, has been murdered; especially since he hears it on the news rather than getting a call from the DEA itself. When he calls his teammates, they are just as gobsmacked. Then an intruder in his home tries to murder him causing him to make the executive decision of calling his team back to one of their off the grid safe houses. After learning that they are being blamed for their boss's death, they create a plan. It is a plan they all hate but options are severely limited by the national news declaring them traitors and persons of immediate interest to a dozen or more alphabet soup agencies. The plan: kidnap an NSA analyst to help them get a meeting with her boss, one of the few people they believe they can trust.
Karen is out for a jog when four men kidnap her. After one aborted escape attempt, she goes along with their directions while she waits for another opportunity. Before one comes along, she is given information on all the men and hears another news story about two of the men allegedly placing and detonating bombs at a botanical garden. Seeing as the men were with her when this was supposed to happen, it is another powerful piece of the puzzle that is increasingly pointing to their innocence. When she arranges a meet with her boss, Tucker alone goes in case it is a trap. However, things do not go as planned and Karen and Tucker need to find a place to hide out for awhile. By this time, Karen knows that Tucker has been framed and she throws her support and knowledge of tracking information through computers behind his cause.
From the very beginning, this book caught my interest and never let up. The pacing and tension were perfect and I flipped through the pages knowing there would be an HEA but so happy to go along for the ride to see how it would come about. This is one of those stories where the reader is told who the villains are from the very beginning and we get to watch the main characters piece together the clues to take them down. There was a lot going on in this book but I always felt that I was given enough info to understand but there were no awkward info-dumps or slow passages devoted to explanations. It was just one seamless, wild ride of a story that I am happy to have experienced.