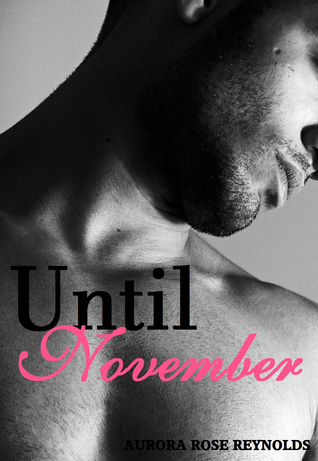 Until November by Aurora Rose Reynolds
November is looking forward to getting to know her father and the safety of a small town. After leaving the Big Apple and her bad memories for Tennessee, November starts working for her dad at his strip club doing the books. The one time she's allowed there during club hours she runs into Asher Mayson. He's perfect until he opens his mouth and makes assumptions. November wants nothing to do with Asher but too bad for November, fate has other plans.
Asher Mayson has never had a problem getting a woman, that is until November. Now all he can think about is making November his and keeping her safe.
Why did I wait so long to read another book by Aurora Rose Reynolds?? I read Until Jax, loved it and promptly checked out Until November so I could start from the beginning. And then it sat on my coffee table...and sat there...mocked me...sat there...until one evening I picked it up hoping it would come close to living up to my remembered enjoyment of Until Jax. And it didn't...it surpassed my hopes by far. I absolutely loved this entire book from start to finish.
We meet November as she is booking a hotel room, beat up but not beaten down, her Great Dane, Beast, at her side. She was attacked in New York, the catalyst for finally moving to be near her dad who she was estranged from until the age of 18. We learn that November's mother is a candidate for Worst Mother of the Century (seriously, some of the things we learn about her are absolutely over the top unbelievable but I didn't even care because the book was so darn entertaining) so thank goodness her father turns out to be amazingly supportive and kind.
Asher has one of the best families I have read about in a long time; I think I loved them almost as much as November who is reveling in her first taste of what it is like to have a supportive, loving family. Asher is bossy, rude, and perfect for November...he has heard from his father and grandfather about the Mayson family "curse" when they will lay eyes on the woman they know is "The One." Unfortunately for Asher, he blows his first meeting with November. And the second as well...however, Asher is also stubborn and sneaky. Before long, November is spending time at his house (just read the book, it all makes sense) and before long Asher has swept her up in a serious relationship.
There were so many times I laughed out loud and others where I seriously swooned. Asher has some of the most romantic lines I have read in a very long time and I relished them all. I also loved Asher's brothers and am so happy they all have stories of their own so I can have more time with them. There is a plot line about someone harassing November by breaking into her apartment, leaving flowers, etc. and the eventual uncovering of who did it and why was a bit far-fetched or silly-feeling to me, but by that point I didn't even care because this whole book was like candy--I couldn't gobble it up fast enough!