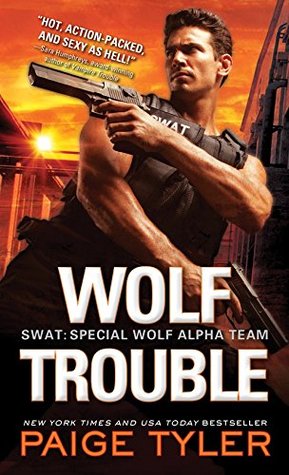 Wolf Trouble by Paige Tyler
There's never been a female on the Dallas SWAT team and Senior Corporal Xander Riggs prefers it that way. The elite pack of alpha-male wolf shifters is no place for a woman. But Khaki Blake is no ordinary woman.
When Khaki walks through the door, attractive as hell and smelling like heaven, Xander doesn't know what the heck to do. Worse, she's put under his command and Xander's protective instincts go on high alert. When things start heating up both on and off the clock, it's almost impossible to keep their heads in the game and their hands off each other...
This was another fantastic entry in the SWAT: Special Wolf Alpha Team series. In the Company of Wolves is still my favorite but this one is a very close second! I was worried going in that Xander would be an ass just to be an ass and that the other wolves would side with him against Khaki and there would be a bunch of unnecessary drama created out of misunderstandings and asshatery. I could not be more delighted to report that I had absolutely no reasons to worry. All of the adults in this book act like grown ups, pulling up their big boy and big girl panties to do what is best for the Pack first and for themselves second. It was so refreshing to read about such likable characters in this type of situation!
The book opens up with the incident that awakens Khaki's werewolf nature--she responds to a suspicious call only to be almost killed on the job when her backup is delayed. Turns out a manipulative ex-lover who is also a colleague has blackballed her at the police station where she works and this is only one of many dangerous incidents she must learn to deal with. When Gage is told that he must add a woman to his SWAT team to create a more diverse team he is appalled at the list of possible candidates he is given--NOT because they are women but because their backgrounds would in no way prepare them for the life-threatening situations they would be expected to handle. He agrees to a woman but asks for the leeway to select his own candidate. He has read about Khaki and has an idea that she is the perfect cop, and werewolf, for his team.
When Khaki jumps at the opportunity to get away from her ex and her colleagues who have turned their backs on her, she is shocked, but excited to learn that she is a werewolf and will be working with a pack of others who can teach her about her new nature. Meeting Xander and overhearing he does not want her on his team is a setback but when the rest of the guys on Xander's team make it clear they don't share his reticence, Khaki believes she has made the right choice after all. And she has. Watching her become part of the team is a hoot--if I hadn't already read Becker's story I would be chomping at the bit to read his book next. As it is, I am so thankful that Cooper's book is coming soon. Khaki and Xander soon realize they each have a thing for each other (it takes a bit longer for them to realize they each reciprocate the other's interest) but they handle it like adults. They put it aside when needed so they can each be at 100% on the job and deal with it in the best way they know how on their own time.
When Khaki and Xander finally get together, fireworks ensue. They create such a functional, albeit secret, relationship that once again does not affect their performance on the job. Khaki, by nature of being on the SWAT team has to go into highly dangerous situations and Xander doesn't stop her. He just makes sure she has the training and support needed to give her the highest likelihood of survival. We get to see a few dangerous missions which really allowed all of the team members to shine. Not only is this book about Xander and Khaki's relationship, but the relationships among all of the member's of Xander's SWAT team which I loved to read about. I am hoping that we will get all of their stories before the author starts on Mike's team. Fingers crossed!! I am very much enjoying this author's writing and since it will be awhile for Cooper's story to be out, I will be turning my attentions to another Tyler series: X-Ops. I am sure it will be another winner!