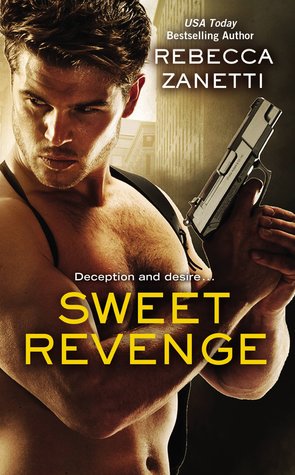 Sweet Revenge by Rebecca Zanetti
Matt Dean was born to fight...and kill. Members of a secret black-ops military unit, he and his brothers were genetically engineered by the government to be the perfect soldiers with an expiration date. Now, with time running out, he's gone rogue in a relentless quest for the one person who can save them. His mission leads him to Charmed, Idaho...and to a beautiful woman with eyes like emeralds and a body made for pleasure.
Laney Jacobs knows the mysterious, handsome stranger is trouble from the moment he walks into her bar, looking for a job. She's spent years running from her own past--the last thing she needs is a romantic entanglement. But Matt's strong arms offer her protection, and his gentle touch promises passion unlike anything she's ever known. As lethal forces surround them, revealing explosive secrets about Matt's past and putting everything--and everyone--he holds dear in danger, can he save them all before time runs out?
Zanetti nailed it again...man, this series is amazing! There were so many different threads of story line going on and the way they all came together in the end was fantastic...I wish I had the type of mind that could plot like that. Since I can't, I will happily be a fan of authors who can and Rebecca Zanetti can. Laney hears a noise in the alley behind her bar one evening and finds an injured Matt Dean. She needs a bartender/bouncer due to a bike rally in a nearby town and he needs a place to earn some cash until he heals and can be on his way again. At least, that is who and what they are on the surface. The real is story is much more complicated and much more interesting and as they both peel away the layers, both their own and each others, they find their live entangling in many ways, past, present and future.
Matt is the oldest brother and he feels that responsibility weighing on him heavily at all times...but more so now as their time is running out. Implanted chips on their spines put all the brothers at risk of termination in six weeks and counting. Finding the surgeon who can undo the process is paramount, but while there are several potential prospects for who the surgeon might be in Charmed, Idaho, Matt can't quite keep his eyes off his new boss and landlord.
Laney faints at the site of blood, is the bar-owning daughter of a deceased alcoholic, and tries to help out the less fortunate in her home of five years. She doesn't like to think about the past, much less talk about it...and her sexy new bouncer is a nice distraction. There's something a little too perfect about his strong muscles, ability to put the meanest drunk down, and kisses that cause her brains to leak out her ears. She knows they don't have a future, but Matt can make her present a whole lot nicer if she can keep her pesky emotions out of the way.
Watching these two come together in the midst of moving forward with the brothers' mission, outwitting the Commander and his extensive number of soldiers, and just for fun avoiding a potential serial killer who is stalking women in towns with sweet names was a hoot and a half. I can see why Matt could be any woman's dream even a woman with a past like Laney's. His commitment, once he makes it is absolute and nothing could persuade him to let down those he claims as his own. He is truly yummy. I was rooting of Laney and Matt from the beginning as they really seemed made for each other...but just a warning, have Nate's book on hand when you finish this one. There is a bit of a bombshell at the end of this book. I am off to the library to get the next book because I MUST know what happens next!