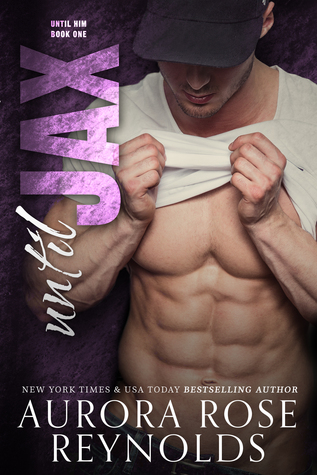 Until Jax by Aurora Rose Reynolds
Ellie Anthony isn't looking for love. She isn't even looking for a man, but when Jax Mayson insists on keeping her and her daughter safe, she's left with no choice but to trust him. Now she just hopes she doesn't get hurt when she falls hard for a guy who's known for breaking hearts.
Jax Mayson knows that Ellie is his boom the moment he sees her. When he finds out she has a daughter, he realizes he wants a family, and he will do whatever is necessary to keep both of his girls safe, even if that means facing the demons from his past.
I picked this book up on a whim from the new releases shelf at my local public library. I am so happy that I did because now I get to go back and glom an entire backlist by an amazing author, many of whose books are related to the series from which this book is a spin off. We are dropped right into the middle of events that must have been relayed in a prior title, which almost caused me to put this book down until I could read the other series books to get caught up, but I just needed to read one more page...and then one more page...and then I found myself halfway into the book and I broke my cardinal rule of ALWAYS READ A SERIES IN ORDER!!! and I didn't even feel guilty because I could clearly blame Aurora Rose Reynolds as it is all her fault that this book sucked me in and wouldn't let me out again until I finished the epilogue. Bad author!
Ellie has just been rescued from a nightmare. Her mother sold her to human traffickers and she isn't sure that those responsible won't try to come after her again. She is terrified that her daughter could be in danger and her rescuer is acting like he's her knight in shining armor and who can stand strong against a such a sexy, stubborn man who seems to only have her best interests at heart. Jax has finally met his boom. The men in his family have always talked about their booms--those women who catch their eye and BOOM their hearts are lost. When he finds that his boom also has a daughter, Jax is determined to keep both of these women who have stolen his heart safe from any danger.
The likelihood of a woman who has just been through Ellie's experience packing herself and her daughter up to live with a strange man is so slim as to be laughable and yet the author made it work. When I think about it too closely, I can't figure out why and yet when I think of the story as a whole, I forget about thin plot points and just find myself smiling goofily as I remember the way that Ellie and her daughter Hope, especially Hope, wrapped Jax around their fingers. Oh, how I loved the Daddy Ax moments!! And Chocolate Chip and Pancake!! Like anyone was surprised that they found a home with Hope after she turned those eyes on Jax like that... Along with watching Jax slowly make Ellie and Hope his, there are the underlying issues of the men who took Ellie still being out there, some of Jax's past girlfriends who are determined to cause problems, and new friends and family members whose problems were hinted at just enough to make me want their stories NOW but not so much that it detracted from Ellie and Jax.
Overall, this was a fabulous way so spend a rainy weekend afternoon, and as soon as I finish this review, I am off to place holds on the other books in the series at my library. I see a series binge-read in my future and I can't wait!!