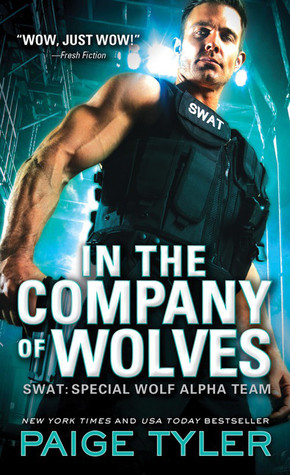 In the Company of Wolves by Paige Tyler
There's a new gang of criminals in town who are organized and ruthless in the extreme. When Eric Becker, along with the rest of the Dallas SWAT team, ends up in the middle of a shoot-out, he immediately senses werewolves--a lot of them. Turns out, the new bad guys are a pack of wolf shifters.
In a spray of gunfire, Becker comes face-to-face with the most gorgeous woman he's ever seen. Becker does the logical thing--he hides her and leaves the scene with the rest of his team.
Jayna Winston has no idea why that SWAT guy helped her, but she's glad he did. Ever since she and her pack mates got mixed up with those Eastern European mobsters, everything had pretty much fallen apart.
This is the third entry in Tyler's SWAT series and the first that I have read. I have been breaking my I-must-read-a-series-in-order rule left and right lately and it has been working out for me. This is the second series from which I have immediately put all available previous titles on hold at my local library. This entry was fantastic. Fast paced from word one, I finally forced myself to put it down an hour after I should have been asleep and picked it up as soon as possible as soon as I was home from work the next day. I really enjoyed the world that Tyler has created and want to read more.
Jayna is at her wits end as her alpha, Liam, has gotten their small pack deeply embroiled with an Albanian mobster and his nephew. Not only that, but Omegas, who are well known to have no loyalty to anyone and extreme aggression issues have been accompanying them on increasingly dangerous forays into criminal activities. To make matters even worse, Jayna is pretty sure that Liam lied to them about his motives for getting them entangled in the first place and it is looking increasingly likely that if her pack is to get out, she will have to be the one to figure out how to leave. But how can a pack of Beta's leave their pack Alpha? And what to do about the mob?
Eric is on a call with his SWAT team when suddenly bullets are flying...this is the last place or time he would expect to find The One for him, but there she is. Breaking all kinds of rules and precedents, he literally sweeps her off her feet before hiding her away for her safety. Upon returning to the scene, he finds a bit of a receipt and the hunt for his missing wolf is on. How is a SWAT officer supposed to come to terms with his One being a criminal? As Eric learns more about Jayna and her circumstances, he is willing to put everything on the line to protect her and her pack. Watching Eric and Jayna work together to try to solve a seemingly insurmountable problem was very enjoyable. I loved the blend of romance and action, neither ever seemed to be shortchanged.
There were definitely some nail-biting tension at times in the book and while I trusted that an HEA would happen, at times I wasn't quite sure how the author planned to untangle all of the problems for that to happen. There were also glimpses of the couples from previous books in the series that I am excited to read about as well as several very swoony guys who scream sequel-bait...Cooper is up next and I am so happy! His character was amazing in this book and I look forward to reading about his own happy ending. All in all, I am thrilled to add another great series to those I already love.