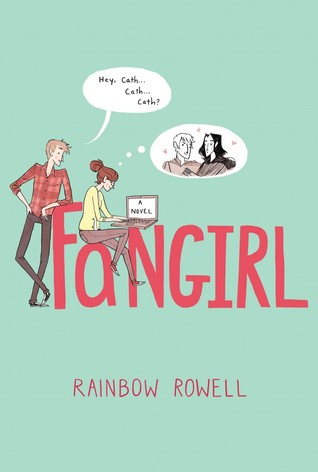 Fangirl by Rainbow Rowell
Cath is a Simon Snow fan.
Okay, the whole world is a Simon Snow fan...But for Cath, being a fan is her life--and she's really good at it. She and her twin sister, Wren, ensconced themselves in the Simon Snow series when they were just kids; It's what got them through their mother leaving.
Reading. Rereading. Hanging out in Simon Snow forums, writing Simon Snow fanfiction, dressing up like the characters for every movie premiere.
Cath's sister has mostly grown away from fandom, but Cath can't let go. She doesn't want to.
Now that they're going to college, Wren has told Cath she doesn't want to be roommates. Cath is on her own, completely outside of her comfort zone. She's got a surly roommate with a charming, always-around boyfriend; a fiction writing professor who things fanfiction is the end of the civilized world a handsome classmate who only wants to talk about words...and she can't stop worrying about her dad, who's loving and fragile and has never really been alone.
For Cath, the question is: Can she do this? Can she make it without Wren holding her hand? And does she even want to move on if it means leaving Simon Snow behind?
Squee!!! I LOVED THIS BOOK SO MUCH!!! I am in a total, blissful book hangover. I spent my entire morning ensconced on my couch completely wrapped up in Cath and her world(s). Her real life which has completely upended on her with the move to college. Her online world where she is the creator of an immensely popular Simon Snow (think Harry Potter) fanfic. Her family circle which has become more of a mobius strip...all twisted up but still leading to the same issues, the same fights, the same bone deep acknowledgement that no matter what these are the people Cath can trust, even when they let her down.
I loved the characters that Rainbow Rowell creates: Cath who is so amazing without even realizing it; who feels so stinking real that I felt I was her even with our lives being so different. Levi who is sweet and charming and oh-so-human but somehow makes you believe there are still Prince Charmings out there. Reagan, Cath's roommate, who takes Cath under her wing almost against both of their wishes and wills. Wren, Cath's twin who seems like she has it so together until you realize that she really doesn't--that she is actually rather broken. Nick, Cath's writing partner who is old-world, intense, and lives for writing. The collaborations they work on bring Cath out of her shell more than almost anything else.
This book has several strong romantic threads running through it and I loved them all, but surprisingly, even more than that, I enjoyed watching Cath evolve over the story from someone who lived in her Simon Snow world because it felt safer to someone who navigated multiple real world hardships and came through them all, not always gracefully, but always stronger and more confident. And there were times, many of them, when Rainbow Rowell would write a sentence that would express a thought so astutely that I wondered how it was that no one had made the same observation before now. And then I would wish that I were the one that had said it first. I laughed out loud, I cried, I had a solid knot in my gut for ten chapters the unraveling of which only happened when I cheated and read the end of the book to make sure things would be okay (judge, don't judge, I did it and I don't feel guilty!), and I stopped at one point to text a friend who also reads YA to declare emphatically that she had to read this book (there were definite all caps involved in that text).
I got so sucked into Cath's world, but I also got sucked into Simon and Baz's. Between chapters (and sometimes in them), Rowell included pieces of writing from the Simon Snow books and from Cath's fanfic. I am so thankful that Rowell has written and published the Carry On fanfiction book that Cath worked on throughout Fangirl. I didn't get to grow up with the Harry Potter books, I was in college with three published when I read them, but I do know and get what it was like to immerse myself into the world and wait ages for the next book to come out and to go totally hermit until finished to avoid spoilers. I so connected with Cath and Wren and their obsession with the Simon Snow world and how it could at times feel more real than their own...I may have tried to wave my wand to clean up some dropped m & m's in my car on a trip once and was rather surprised when it didn't work until I remembered I was a muggle.
A friend recommended I read Attachments years ago, but before I could get to it, Rainbow Rowell exploded in popularity and I became hesitant...what if she didn't live up to the hype? And then Eleanor & Park came out and took over blogland and I dug in my heels as I tend to do when something gets huge...but I am so glad that I got over it and gave Rainbow Rowell a chance. Fangirl is the best type of book out there--the one that leaves me so happy when I finish it that I can't contain it and MUST break out in squeals and waving arms and legs and (maybe) some slight profanity as I let the excitement and feel-goods out. Fangirl was my first Rowell, but it won't be my last. I have Eleanor & Park on my coffee table and immediately put a hold on Carry On at my library (there may have been some more not-so-slight profanity that I had to wait for it).
If I were to be a writer, this is the type of book that I would want to create--one that leaves the reader with an overabundance of emotions and the desire to make everyone you know read it so you aren't the only one dying to talk about it with someone else who gets it.