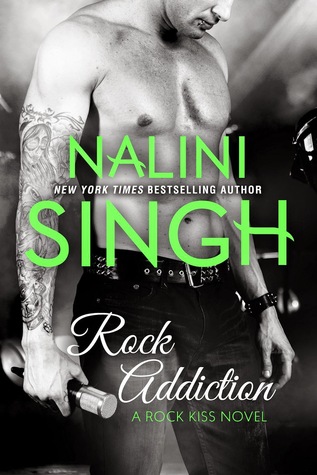 Reading Assignment Challenge: Rock Addiction by Nalini Singh
Molly Webster has always followed the rules. After an ugly scandal tore apart her childhood and made her the focus of the media's harsh spotlight, she vowed to live an ordinary life. No fame. No impropriety. No pain. Then she meets Zachary Fox, a tattooed bad boy rocker with a voice like whiskey and sin, and a touch that could become an addiction.
Fox promises scorching heat and dangerous pleasure, coaxing Molly to extend their one-night stand into a one-month fling. After that, he'll be gone forever, his life never again intersecting with her own. Sex and sin and sexual indulgence, with an expiration date. No ties, no regrets. Too late, Molly realizes it isn't only her body that's become addicted to Fox, but her heart...
I was both looking forward to and shying away from this newest series from personal favorite Nalini Singh. Looking forward to because I love Singh's writing and have yet to be disappointed. Shying away from because Singh was switching from paranormal to contemporary and I wasn't sure if her "zing" would be as strong. I was wrong to wait!! While I had a couple of quibbles, one of them rather large, I was unable to put down the book until I had finished it.
Molly is at a party for rock band Schoolboy Choir eyeing the sexy lead singer, Fox's pierced lip. She really wants to bite that lip but knows her fantasy will remain just that. After a horrendous experience with the press as an impressionable fifteen year old when her father, an influential politician was caught with an underage classmate of Molly's her life fell apart. Between her entire life being blown apart in the tabloids and then her parents' deaths in a car accident, Molly knows she wouldn't really get near the sexy Fox or all of the paparazzi that follows him everywhere he goes. After seeing countless sexy women near and at times on Fox, she knows it's time to put the fantasy away and go home to her safe existence which she has carefully constructed and protected. As she gets on the elevator, so does Fox, which leads to a one night stand which in turn leads to a one-month no strings arrangement.
This is my first major quibble. We are never told why Fox found Molly so alluring--why he was so determined to have her for one night and later, for longer. They have amazing sex, sure, but they don't really connect on a deeper level until later so I can't figure out why Zachary Fox, lead singer of a band regularly described as one of the best and most famous in the world, would go to so much trouble to stay in Molly's life when she continues to throw up roadblocks. When they do being to connect, it totally makes sense but it takes long enough that I just can't quite let it go. However, putting that point aside, I still enjoyed the story of two people who actually talked about their problems, making a point of not letting misunderstanding build up but rather rationally conversed about issues regularly until both of them were content with the results. And maybe it's wrong, but while I enjoyed reading about Molly and Fox, I loved the moments with Molly's best friend Charlie and Charlie's new boss, T-Rex. Ditto with Thea, Molly's sister and David, Fox's band mate. Luckily, both couples have their own novellas/novels so I won't have to wait long to satisfy my curiosity!
This book is broken into two parts and while I really liked aspects of both, part 2 was my favorite. By this point, both Molly and Fox are committed to the relationship and it felt like the entire story moved forward more while part 1 really revolved around Molly deciding if she could let go of her fears long enough to commit to Fox in the first place which got a little old before it was finally resolved. All in all, not my favorite Singh title, but definitely a great set up for the rest of the series!