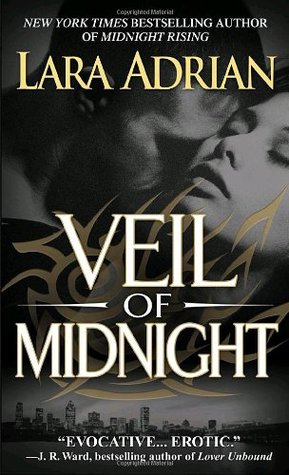 Monthly Key Word Reading Challenge: Veil of Midnight by Lara Adrian
Bound by blood, addicted to danger, they'll enter the darkest--and the most erotic--place of all.
A warrior trained in bullets and blades, Renata cannot be bested by any man--vampire or mortal. But her most powerful weapon is her extraordinary psychic ability--a gift both rare and deadly. Now a stranger threatens her hard-won independence--a golden-haired vampire who lures her into a realm of darkness...and pleasure beyond imagining.
A combat-loving adrenaline junkie, Nikolai dispenses his own justice to enemies of the Breed--and his latest quarry is a ruthless assassin. One woman stands in his way: the seductive, cool-as-ice bodyguard, Renata. But Renata's powers are put to the test when a loved one, a child, is threatened and she's forced to turn to Nico for help. As the two join forces, as desire fans flames of a deeper hunger. Renata's life is under siege by a man who offers the exquisite pleasure of a blood bond--and a passion that could save or doom them both forever...
Wowzer...this book was not what I was expecting, and not necessarily in a good way. Danger has been heightening over the course of the series but this particular book was REALLY dark--lots of chills and violence and just plain cruel characters whose activities ranged from creepy to sadistic.
Renata overhears Nicolai asking about the Gen One vampire she serves and draws Nico into a trap. When he is incapacitated, the debilitating effects of her gift kick in leaving her weakened. Nico recovers more quickly than any other Breed vampire she has used it on and he quickly turns the table on Renata and those with her. When Nico is asked back to the Gen One's place of lodging, another first, she isn't sure what to think. Renata has a lot of secrets and she is finding it harder and harder to walk the tightrope of survival.
Nico is dismayed and disgusted to find the Gen One vampire he has worked so hard to find and warn of Gen One assassinations is himself an evil creature who kills with no regard to the sanctity of human life. When he meets Renata he isn't sure if she is an innocent or tied up in the hideous acts or somewhere in between. And then there is Mira, the child who can show you your future if you look into her eyes...
This book was full of violence and was definitely not my cup of tea. I liked Nico and I liked Renata but felt their relationship definitely took a backseat to all of the horrific events that take place throughout the story to the point that I really just wanted it to be over. Since I have been looking forward Nicolai's story from the beginning I felt really let down with what I got...and based on something huge that happened at the end and the fact that Andrei is the hero of the next book, I don't know if I can expect things to lighten up anytime soon. I am okay with some dark and difficult times but this book was one relentless downer...even at the end when our characters were mostly okay, it didn't feel like a happy ending.