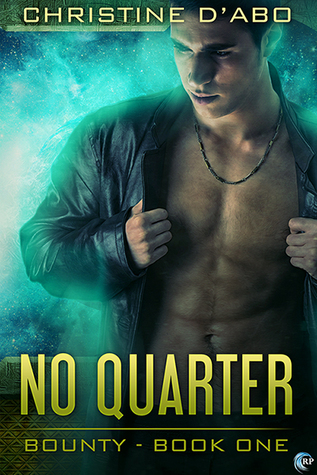 Monthly Motif Reading Challenge: No Quarter by Christine d'Abo
When bounty hunter Gar Stitt is given a simple locate-and-retrieve mission, he's convinced it's a waste of his skills. His success rate is legendary, after all, and Captain Faolan Wolf isn't hard to find. He's the most notorious pirate in the galaxy, and when he shows up planetside to take his pleasures, he's far from subtle.
Faolan never expected a hot but tightly wound hunter to walk into his private party and try to apprehend him single-handedly. And when an unexpected betrayal forces them to work together, Faolan's even more suprised to find himself drawn to Gar personally--especially since neither of them do personal.
Gar had intended to put Faolan in prison. Instead he finds his solitary existence shaken by his desire for the pirate. And when the bounty hunter becomes the hunted, he must put his faith in Faolan and his pirate crew, or run the risk of ending up dead.
Fun! This entire book was a ton of fun. Gar is not happy to be retrieving Faolan but his boss asked him to take charge of this particular pirate and Gar owes Jason for saving his life when he was fourteen. After losing his family to violence, Gar does not open up to anyone because he is not interested in feeling that level of pain ever again. So when, despite Gar's best efforts, he finds himself beginning to like, even care for, the notorious pirate who is sharing Gar's small spaceship with him, he fights it tooth and nail...but not very successfully.
Faolan is great at putting on a good front. He appears carefree (even careless) but that only hides the deep loneliness inside him. Faolan has an extremely loyal crew who he cares for deeply, but nobody who has ever known him down to the core...when it looks as if Gar might be the man to finally dig deep enough to know the whole Faolan, it leaves Faolan both hopeful and shaken. To further complicate matters, Faolan knows he is not a good bet for anything involving the future--he would end up being just another person to leave Gar and Faolan is beginning to realize that the young bounty hunter may not be able to handle much more pain.
When the betrayal mentioned in the blurb occurs it both drives Gar and Faolan together but also serves as a point of contention when it comes to dealing with the betrayer. Neither wants the other in danger, and yet both realize the skills and competency of the other is needed in order to make their crazy plan for survival work. And even if they both make it out alive, it still doesn't ensure they have a future together.
Whew...watching Gar and Faolan begin to dig beneath each other's layers was so rewarding. Gar has chosen to hide behind an icy, rigid facade of control and routines while Faolan is hiding behind a devil-may-care attitude and an anything-goes philosophy. As the layers slowly peel away two men who are perfect for each other begin to emerge but then the external pressures of betrayal and past actions begin to put pressure on their fragile connection. Watching them deal with and work through their conflicts was fantastic. These two characters are one of the more balanced relationships I have read about--while they would have both been able to function independently you could see that they were much happier and healthier together. They actually listened to each other's ideas and compromised when needed. All in all, a fantastic read.
I read this as my March Monthly Motif selection. The topic: Take a Trip.