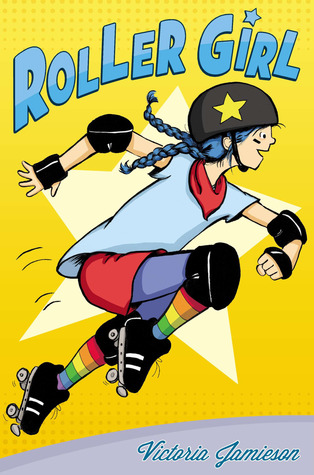 Goodreads Awards Challenge: Roller Girl by Victoria Jamieson
Twelve-year-old Astrid has always done everything with her best friend Nicole. So when Astrid signs up for roller derby camp, she assumes Nicole will too. But Nicole signs up for dance camp with a new friend instead, and so begins the toughest summer of Astrid's life. There are bumps and bruises as Astrid learns who she is without Nicole...and what it takes to be a strong, tough roller girl.
I sucked this book down in one giant gulp and loved every bit of it! Oh, to relive the angst of childhood friendships changing and personal interests diverging from those of the person who had been my long-lost-twin up to that point in my life. I remember being so shocked when I realized that I was a Capital-R-Reader and my bestie was not interested books but would rather talk about...boys!?! Whuh?? Astrid and Nicole are feeling these same growing pains as Astrid is dazzled by a roller derby meet she attends and is sure that her best friend Nicole feels the same. When she discovers that Nicole is going to dance camp instead, the fate of Astrid's summer hangs in the balance as her mother is expecting Astrid and Nicole to carpool. This is the first of many tough spots that Astrid finds herself in over the course of one amazing summer. She lies to her mom, feels the loss of her friend, finds that her plans to be a roller derby star aren't going to work out like she expected (falling down is easy, roller derby is hard!), but throughout it all, she determines that she is not going to give up and she works through a lot of tough spots. Along the way she finds new friends, new skills, and new ways of looking and thinking about things. The art and the voice are both smart and sharp and I can see middle grade students of both genders enjoying this tale, but I think the girls out there going through the same situation as Astrid will find a confidant and a strong sense of comfort at not being alone in a situation that often serves to highlight loneliness.