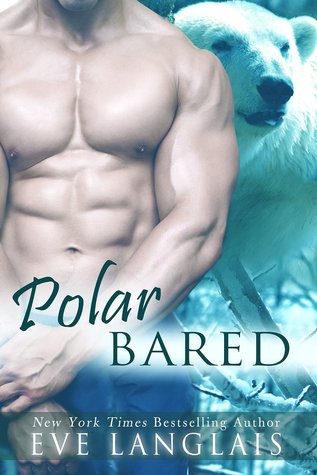 Polar Bared by Eve Langlais
What's a bear to do when a human has a polar-izing effect? When Vicki accidentally slides into the side of a polar bear, she doesn't expect to fall in love. Eaten yes, perhaps used as a chew toy, but become the object of a bear's affection and lust?
Crazy! Almost as crazy as the fact the polar bear turns out to be a man. A sexy man. A man who growls and roars and does everything he can to chase her away.
Only to come back.
Gene has only one things on his mind, vengeance, until Vicky crashes into his life.
After the pain and betrayal he suffered in the war, all he wants is vengeance against the brothers who left him behind. But he's confused when, instead of wanting to punish him for his evil acts, they offer him forgiveness.
As if that weren't annoying enough, the cutest geek he ever met--with caramel-kissed skin covering a lush, rounded figure and wearing the sexiest dark-rimmed glasses--won't leave him alone. Or more like, he can't seem to stop following her. And it isn't just because someone is out to hurt her.
He wants her. But does he want her more than vengeance?
Another incredibly enjoyable entry in the Kodiak Point series. Gene was the villain of books one and two but there were hints in book two that not all was as it seemed...we got an intriguing glimpse into his pain and rage. Finding out he was the hero of book three wasn't surprising but it was certainly intriguing as I really love the idea of redeeming him. The big worry wasn't having a villain-turned hero but rather if the heroine would live up to Gene's bigger-than-life and rather complicated self. Spoiler alert: Vicky was perfect for Gene!!

Vicki is left monetarily well off after her parents, and later on husband, pass away leaving her as the sole heir. Considering that both her father and her husband were verbally, and at times physically, abusive, she is quiet, introverted, and when scared has a tendency to faint. So when she decides to live life large and goes on an Arctic trip to do research for a paper on polar bears, slipping off the side of an ice cliff only to sled right into the side of a polar bear has her face planting in the snow quicker than you can say "Boo!"
Gene can't believe that in all the arctic, this small, crazy woman has to crash into him. Watching her try to save herself with dismal results tugs at his very rusty morals and he finds himself rescuing her. In the course of getting her back to her group's camp, someone takes a shot at them. Gene is sure that it is an enemy coming after him, but repeated attempts soon show it is Vicky that is the target. Despite not wanting anyone in his life, Gene and his bear agree that the only way to keep Vicky safe is to keep her with them. The fact that she smells good, tastes better, and causes the word "MINE" to spontaneously flash through Gene's head is beside the point.
This book could stand on its own but I recommend reading it in the series order. Knowing the bad-guy background made Gene's journey to acknowledging and later accepting not only Vicky in his life but the teammates and clan he though he wanted no part ofs reentry into his life all the sweeter. As was watching Vicky discover and utilize her backbone...she went from beaten down to stubborn and sassy and I (and Gene) loved it. The entire book was a very quick read (maybe a couple of hours) which I couldn't put down. Eve Langlais's writing just works for me and this book was another example of how to write a sexy, suspenseful, clever, funny, action-packed romance. I can't wait to visit Kodiak's Point again, but it is going to be tough for any couple to top Gene and Vicky. So far they are my favorite of the series (which is saying something because I thoroughly enjoyed both couples from previous books!)