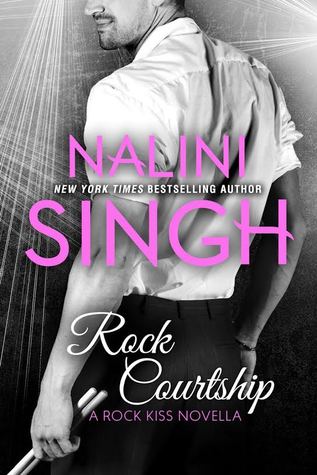 Rock Courtship by Nalini Singh
A drummer for the hottest rock band on the planet, David has a single, powerful weakness: Thea, the band's publicist and the woman who steals his breath away with her every move.
Only problem is, Thea doesn't date clients--or musicians. Emotionally scarred by a cheating ex, she's not about to risk her heart with a man who has groupies buzzing around him like flies. Even if his sexy smile ties her up in knots.
What she doesn't know is that David is a one-woman man...and he's madly in love with her. David's determined to prove he's worth the risk, and willing to court her, step by exquisite step. Thea's about to discover just how long and hard this handsome drummer can play.
Sigh. This novella left me feeling all fuzzy inside. It was the perfect comfort read for a chilly afternoon sitting on the couch, snuggled up in a warm blanket. I really loved David...he was so innately sweet and kind but could be oh-so-dirty in the best of ways. I loved the dichotomy of his outward pulled-together appearance all jazzed up in a suit and his inward shyness that lingered form his youth when he was a shrimp who had to defend himself frequently from larger schoolmates. His determination to make Thea his, along with his willingness to take advice from those who knew her, were fantastic. The memos that David writes to Thea were both hilarious and sexy.
Thea was a strong woman who had gotten kicked in the teeth (metaphorically) by her dirt bag ex and she is gun shy as a result. She can't believe that sexy David couldn't have (and hasn't gotten) any beautiful woman he wants. He is after all a drummer in a hugely successful rock band and as their publicist, Thea knows better than most how far some women would go to be able to say they had been with a rocker. She is not about to put her heart out there again but there is something about David that is irresistible. They have a friendship that is precious to Thea and she doesn't want to lose it, but she also doesn't want to watch him find another woman and be on the outside watching his happiness with someone else.
The way these two work out their relationship and the resulting issues that arise from and because of it was refreshing. Finally, adults who talk things out! No sitting on resentments or annoyances waiting for them to grow out of proportion. And they are hit with some pretty big hurdles but manage to always act like functioning, grown-up human beings who truly have each others' best interests at heart. A winner for sure. Next up, Charlie and T-Rex! I can't wait!!